The Excitement is Killing Us!
By: Portobello Road
To no surprise if you're in a band and you write music it make sense to record and produce a record that people can listen to right? We have been playing music with each other for quite some time now, 5 plus years and we have very little to show for it (minus all our awesome live shows). Not to be ashamed, but we only have a small representation of who we are with a dated self-titled EP that consist of 3 original tracks and 2 covers. However, there has been a buzz about Portobello Road from people wondering if we will ever release a full length album. Well my friends that time has come. We are pleased to let you know that we have been diligently working on our first full length album and we are so excited its killing us. Our tentative release date is…well…it's tentative but we are shooting for early January 2013. Portobello Road is recording tracks with Joel Monroe, a totally awesome dude who is capturing our sound beautifully. We are getting close with wrapping up our recording process to which we will jump ship and move in with the almighty Kyle Zander for mixing and mastering.
Recording is pretty new for our band, as we mentioned before we have been a band for 5 plus years writing music and perfecting our sound but being in a recording studio is a completely different ball game. It's pretty insane how creative you can get in the studio by adding a touch of love to your tunes in the form of awesome chants to harmonizing backup vocals.

We have a lot of work to do… we all need to agree on an album name and art work…trust us, that's hard to do with four very creative band mates. We have to decide on a single to release, a video to shoot and above all…an actual release date. It's cool though, we are having a heap of fun with this experience and trust us, you are going to like what you hear. We are recording about 16 tracks but our idea is to only have 12 songs on the record, again another difficult decision but the cool part is these decisions are made by us, Portobello Road.
As we continue to record, Portobello Road is still very active playing around town so please come to a show, plus our practice doors are always open so hit us up and stop by. Don't forget to follow us on Facebook and Twitter for consistent updates on our debut album and show schedule.
PBR
You would think writing music would be the hard part when creating an album, well for Portobello Road writing music is easier than creating an album cover. Portobello Road has never had more creative differences then when it comes to an album cover. We have narrowed our ideas down to 4 (so far).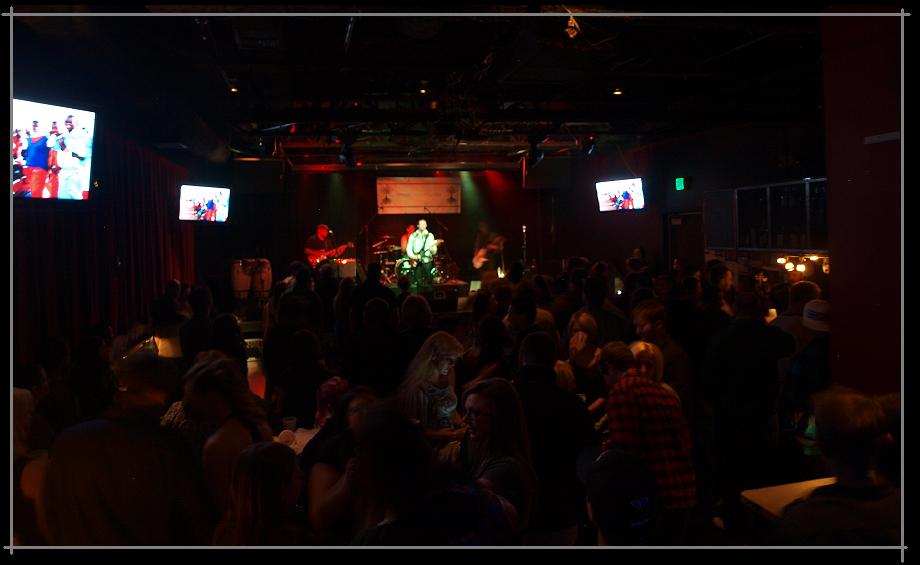 The life of a Portobello Road show poster:
Posted by Peter Washington


Out of all the venues covered on this blog there's been one that, until now, has been curiously absent. It's a place that's been serving South Broadway for over 25 years, hosting over 25,000 bands on its stage over that time. That place is Herman's Hideaway, a place started by the late Herman Roth and now run by his son Allan Roth and grandson Mike Roth. Perhaps I had some misconceptions about the place that kept me from going there before; the venue was too far from downtown, I wasn't sure about the setup, and I wasn't sure about the bands they booked. But after covering a show there, I realized those were just that - misconceptions.

This past Saturday Herman's Hideaway in conjunction with
Tone Dynamix
hosted a local rock 'n' roll show featuring up and coming local bands, with the much hyped about In The Whale on the headline. I'd been meaning to catch In The Whale for some time, so when I saw this band was playing Herman's Hideaway my concerns about the bands the venue booked vanished. I thought the venue was far away from downtown, but it was really only a short bike ride from Capitol Hill - another misconception quashed. I stepped inside to see a clean venue with a well stocked bar, ample seating, a great dance floor, a sizable stage, bright lights, and big speakers - an ideal setup for just about any show.
From that point, I knew as long as there were bands I wanted to see, there was no reason not to check out this venue more often. The good news was that the man behind Tone Dynamix, a tireless, hardworking independent booker and promoter by the name of Tony Mason, is now a part of the Herman's Hideaway team, utilizing his network and work ethic to bring a slew of desirable shows to the venue, just like it had been a hotspot for bands in the not too distant past. For me, Saturday night was a test of sorts, but with a good start to finish show on the docket, Herman's Hideaway was well on its way to high marks.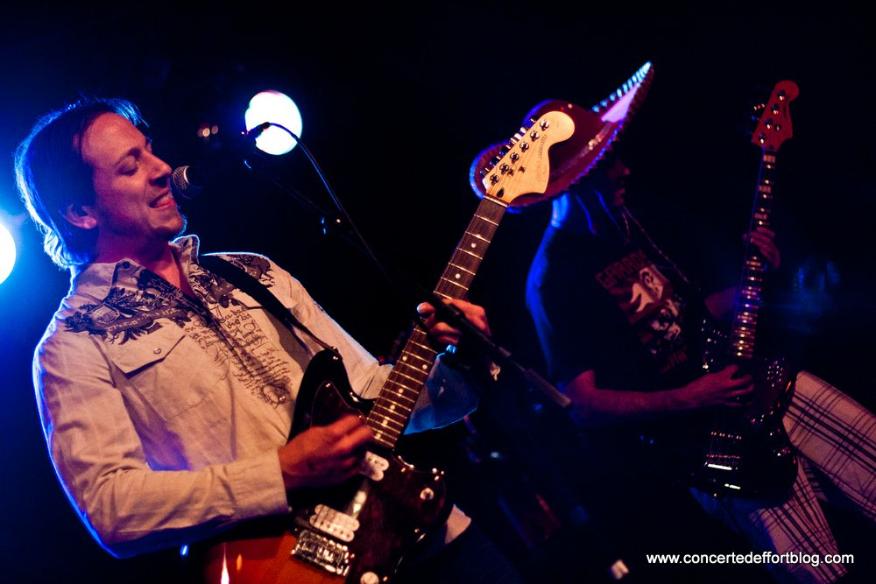 The night began with an opening performance from Denver's own Portobello Road. Portobello Road is a four-piece rock band featuring brothers Chris Michaels (vocals, guitar) and Drew Michaels (guitar, vocals) along with Tommy Weber (bass) and Josh Meneses (drums). Together they created an eclectic blend of different rock genres. On some songs like "Great State of Arousal" and "Gangsters And Petty Thieves" they had an alternative rock sound. Songs like "Mission Control" or their "Folsom Prison Blues" cover were straight-forward blues rock. Songs like "Sinner" and "Space Oddity" had both those aspects, and a little hint of punk ska thrown in. As a whole package, perhaps the band could use more cohesion in their songs to make them a more identifiable band, but their songs piece by piece were pretty solid. If you like bands like The Black Keys and Sublime and everything in between, give this band a listen. Read Full Article here.